You might know this as "Frito Pie." But to me, this meal will always be labeled "Pepper Bellies." Amen. The end.
For every birthday party of my youth, this is the dinner I would request. Imagine screaming girls, sitting down at a table eagerly awaiting a bowl of steaming chili smothering chips and being smothered, in return, by heaps of cheese. Mmmmm….
This is not something I make all of the time. Okay, once a month. I have to admit, it is not all that healthy. But it is good. It creates fun memories. And, well, life is short. It should be fun, too.
Ingredients:
Packet of chili seasoning (I have tried all of them. I just buy the cheapest.)
1/4 tsp. garlic powder
One pound ground turkey or beef
Shredded cheese for topping
14-15 oz. can tomato sauce
14-15 oz. can chili beans (optional, because my children are odd)
1 bag of original Fritos corn chips
Optional Toppings:
Diced onions
Sour cream
Hot sauce
In a large skillet, cook ground meat with a pinch of garlic powder, salt and pepper until brown and crumbly. If I am cooking with ground turkey, I add a couple of splashes of Worcestershire sauce. Drain fat, if needed.
Add packet of chili seasoning with water as called for on the packet. Stir. Add tomato sauce. Stir. I also use my potato masher to get my meat finer. Add beans, if you dare. Stir.
Let simmer eight minutes on low heat. Stirring as needed.
Turn off heat.
Layer Fritos in bottom of bowl. (I use 46 for 3 points. This is the maximum for 3 WW points. I count them out for my bowl.) Ladle chili on top of Fritos. Add toppings.
This "meal" is very inexpensive. The maximum I ever pay for Fritos is $2. Factor in $3.50 for the meat, .80 for the tomato sauce, $1 for the chili seasoning, and $2 for the cheese. You are looking at less than $10 for an easy dinner. Healthy? No. Easy and cheap? Yes.
Now go enjoy the heck out of this scrumptious dish!
Have you had Pepper Bellies or Frito Pie?
I shared this on Savvy Southern Style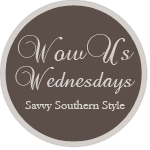 And on My Romantic Home