I read an article in Country Living Magazine about the most amazing looking biscuits. I knew I had to try them. This is not my recipe and I did not change it one bit. So I am not posting the full directions. To see the super easy directions, click here.
I have made biscuits before. But I cannot remember them being this simple. I am now sold on making them from scratch.
But only with this recipe.
This biscuit is tangy through the incorporation of cream cheese and buttermilk. I made it two times in the last week. Once with parchment paper in a pan. Another time in my cast iron skillet. The skillet was easier and the biscuits got a nicer color with it. This is the method I would recommend. For some reason, the first time I made these I got ten biscuits from the dough. The second time, 12.
Ingredients
2 cups of self rising flour (plus more to sprinkle when rolling out and on top)
1/2 stick softened salted butter cut into small pieces
1/2 stick (1/4 cup) softened cream cheese cut into small pieces
3/4 cup buttermilk (Mine was room temperature)
1 Tablespoon melted butter
This is what I went through to make my biscuits.
Whenever I serve any type of bread or roll, I usually place the pieces in a bowl draped with kitchen towels. This keeps the bread dry and warm. Plus, I just think it adds a pretty rustic touch on the table.
I did not have a square cutter, so I just used a plain old biscuit cutter. I mentioned above that the first time, I used parchment paper in a baking dish. This worked out fine. My biscuits ended up taking 19 minutes to cook with the parchment method. And 17 minutes in the skillet method.
This was so easy. Probably five minutes to make, roll out, and cut. And then it is just the baking time.
Enjoy! Please let me know if you try these. My family adored them.
* Also, I do not know how long they keep their recipes up. If you like these, I would print it just in case.
I have to eat my biscuits with a bit of jelly and no butter. Although, my grandmother would be so ashamed. She loved butter on her biscuits. And, of course, honey. How do you like yours?
I shared this on Savvy Southern Style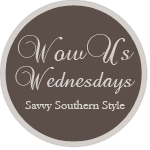 And My Romantic Home