I have had this recipe in my mind for years. I used to make sloppy joe empanadas, but they were missing a little somethin' somethin'. I decided that "somethin'" was breakfast potatoes. As it always is.
But after I made this, I had my doubts when my son turned to me while dinner was cooking in the oven and said:
"Mom. Our dinner smells soggy." Since this is what I had feared would happen with the potatoes in the pie, my heart raced. All I could smell was raw pie crust cooking.
Thankfully my husband made me laugh when he replied, "Really? I think it smells yellow."
Ingredients:
2 Tbsp. Diced onions
1/2 diced red bell pepper
1/2 diced green pepper
1 tsp. worcestershire sauce
1 tsp. garlic powder
1 clove minced Garlic (or a frozen pouch or 1 teaspoon from a jar)
1 pound ground meat (I used turkey)
2 cups water
3 Tbsp. Butter
1-2 Tbsp. Olive oil (check as you are cooking your potatoes to see if they need more)
Sloppy joe mix
3 Tbsp. Ketchup
10 oz. tomato paste (1 and 1/2 small cans)
Pie crust package
8 oz. shredded cheese (2 cups) (I used shredded Mexican from Costco, but cheddar would work just as well)
1/2 package frozen country potatoes
Preheat oven to 375 degrees.
Heat butter and oil in a large skillet over medium heat. Add onions, bell peppers and garlic. Add frozen country potatoes in a single layer around the pan. Salt and pepper according to taste. I hate when recipes say that, but in this case it is true. Cook about twelve minutes, stirring occasionally so potatoes brown evenly.
Transfer potato mixture to a small dish.
Take refrigerated pie crust out of refrigerator.
Add ground meat (I used ground turkey) to the pan. Sprinkle with salt, pepper, garlic powder and worcestershire sauce. Cook and break up until brown and crumbly. Add sloppy joe packet. Add water. Stir. Add tomato paste. Stir. Add ketchup. Stir.
Cook on low heat for five minutes.
Add potatoes mixture and shredded cheese. Gently mix together.
Place one pie crust sheet into bottom of pie pan. Pierce with fork.
Fill pie pan with sloppy joe filling.
This part is optional: Lay other pie crust sheet onto a plate. Pierce center with a small cookie cutter shape.
Lay pie crust sheet so that the cut out shape is in the middle. Pinch edges together all the way around the pan. Gently pierce the top with a fork. I try to do mine evenly.
Place in preheated oven. Cook for 45-50 minutes.
Turn off oven. Let pie cool for ten minutes before cutting.
Serve it up!
And hope it tastes neither soggy or yellow. My husband and I both loved this. My son had talked himself out of it and would barely eat it. He could not get past the idea of store cut potatoes. Imagine that. I think if he would have seen me chopping up the potatoes myself it might have made a difference. But he saw the bag, and that was that. Who knew he had this aversion?
When my husband exclaimed upon his first bite, "It does taste yellow!"
My son replied, "Do you mean disgusting?"
I gasped and said, "That's not nice!"
My son tried to recover by saying, "It's just that yellow is my least favorite color. When dad said, 'it tastes like yellow,' it sounded to me like he was saying it was disgusting."
So there you have it folks. I made yellow. Let me know if you try this! For the record: I like yellow. I like this pie. Both of them tasted great!
I shared this on Savvy Southern Style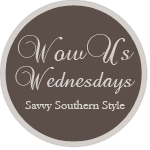 And My Romantic Home