I'm gonna let you in on a little secret. I love Halloween. I love it. The idea of transforming oneself into whatever one wishes. Millions of people playing "dress-up." It's exciting. Besides Disneyland, this is the closest thing us adults will ever get to our childhood left behind.
And trick-or-treating! Forget about it! I love it. The idea of knocking on someone's door and having them not only answer, but give you candy. I mean: If you stop to think about it, it is such a wonderful thing in this world full of mistrust and heartache.
Halloween. It is such a ridiculous holiday. Which is why I love it. I just cannot believe how many people celebrate it and give in to the fun.
Growing up in the country meant never having one trick-or-treater. We would venture five miles down the road to my aunt's house and trick-or-treat from there. My aunt would give out the most amazing goody bags to each child. This led me to immediately start this tradition from the moment I was on my own. (Post to come about my goody bags this year. Hmmm. Something about that doesn't quite sound right). It is a thrill to me to get a trick-or-treater. Seriously, a thrill.
Here is how we decorated our outside this year. Well, this is how we decorate every year, so don't expect anything different next year.
Notice, I kinda hid our green door from the association. I think I can get away with doing this until January. Christmas green anyone?
How did you decorate this year? Do you love Halloween as much as I do?
I shared this on Savvy Southern Style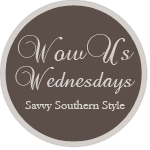 And My Romantic Home