I have been in a slightly manic state this week. I have wanted to do nothing but projects. However, instead of starting one project. Well, I started three. One project I had not started were the cardboard ornaments I had purchased for my children to paint. I thought they would be adorable Christmas present toppers for relatives.
Well, the other day, I came home to find a pile of cardboard all over the bedroom floor. It took me a bit to realize one of the dogs had gotten into my "craft" bag and ripped apart a cardboard star ornament. I figured it was Ollie, but I had no proof. And Ollie would have no recollection of the situation. His charm is in his looks, not necessarily his brains.
I left the house for an hour. When I came back, this is what I found.
Apparently a new crime had been committed in my absence. I guess what Murphy would have me believe is that someone came in and killed my dog and murdered my Christmas ornament.
But I could see him blinking.
Do you see the guilt in those eyes?
I couldn't get mad. The situation is too funny.
Do you think our relatives will appreciate Murphy's version of "art" on their presents?
Darn. Me neither.
I shared this on Savvy Southern Style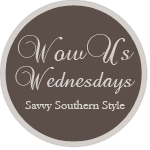 And My Romantic Home