About seven years ago, my husband purchased my first Le Creuset piece for me for a Christmas present. It was bright green. I was in love. I use it about three times a week. It conducts heat so beautifully. I think cooking in something pretty makes cooking more fun. It also helps that Le Creuset is a functioning dream.
Le Creuset is expensive. You can find seconds at Home Goods and on eBay. I was content with my one piece. But then at Christmastime last year, Rue La La had an amazing sale.
The sale was on Le Creuset. If I can remember right, the pieces were around 45% off. And in the beautiful blue color that I adore. Free shipping was also part of the offer. When the boxes arrived (I ordered three pieces for my husband to give me for Christmas), the box said it cost $75 to ship! Wow! We saved a ton of money! I purchased a larger dutch oven.
This is perfect for large roasts, pots of soup, and when I double my beef stroganoff. I use it all of the time.
I also purchased a skillet. This is the item I am not impressed with. All of my food sticks to it. Do you have a skillet like this? What am I doing wrong? I really need help with this one.
Amazon carries Le Creuset, but you have to wait for a great price. I am watching this yellow Le Creuset pot, but I doubt it will ever reach the discount I received on my last pot.
Do you own any Le Creuset? What is your favorite recipe to cook in it?
It's the little things: beautiful products to cook in. It truly makes cooking more fun!
P.S. An update: last week I did a post on crushed garlic. Brynne asked me if this was was carried at Trader Joe's. I was told in the comments by Alissa that they do carry it. I was there two days ago and snapped this picture in the frozen vegetable aisle. I was so excited to see it and also ecstatic to try the frozen chopped basil in the future. I bought some of that to try in recipes later! So, thank you Brynne for the question. And thank you Alissa for the answer. I love learning something new! : )
I shared this on Savvy Southern Style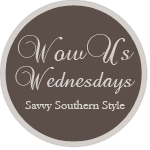 And My Romantic Home