Do you know who the sexiest movie hero is?
That's right. THE BEAST.
Swoon.
Belle was one lucky lady. Well, until he turned into that prince…
But before that, she received the best gift in the world. That library. I covet it.
I decided I must have a piece of her dream, even if it is on an itty bitty scale.
My husband and I collect books. Lots and lots of books. We will come home with bags full of beautiful paper time machines giddy with excitement.
My husband also collects comic books.
We ran out of storage long ago.
Our house is 1830 square feet (that 30 is important! ; ) ). Half of our formal living room is lined with books. Eventually we are going to have to build them all the way up the walls.
Our house is small, but it came with high ceilings and weird little square niches everywhere.
Welcome to the early nineties!
We hired our carpenter to build us bookcases in two of our niches. This should solve our problem this year. Maybe next year we will tackle the job of the formal living room…
We also splurged on a library ladder. Because… Do I really need a reason? I mean, just look at it. LOVE. Best purchase ever.
I have been stalking craigslist and eBay for the last four years looking for a reasonably priced library ladder. I am still kicking myself for not snagging one during the Borders Bookstore liquidation sale.
But I never found one. I finally just gave in and purchased a library ladder kit. I am really happy with it. We upgraded to oil rubbed bronze hardware and maple wood. It was fun to be able to customize our options. This was much cheaper than a fully completed library ladder. But it was still a huge splurge. We stained and installed this ourselves.
Paul and his brother Chris, from Vrieling Woodworks (they also did our baseboards) built and installed the bookcases.
We are so pleased with the final result. I keep pinching myself, because it truly is a dream come true.
Do you like to read? Are you a hoarder of books?
I shared this on Savvy Southern Style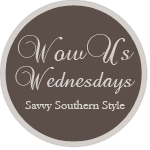 And My Romantic Home