Yes, tuna pie.
It is my favorite.
Dish.
Ever.
I am a freak.
When I was a young lass, a friend was planning a surprise party for me, she called my best friend to see what to serve at my party. She wanted to serve my favorite dishes.
My best friend responded, "Well, I do not know what you are going to serve. All I know is, she likes tuna pie."
This answer still makes me laugh. Hysterically. Because I imagine being the person receiving that response and the questions and images it inspires.
But I digress…
My grandmother used to make this for me. My mother would make this for me.
My grandmother and mother used to make homemade pie crust and fold cheese into the edges to make the most amazing crust. Folks, I am lazy. If you choose to be ambitious, that would take this pie to the next level.
Tuna Pie (makes one pie)
Ingredients:
Package of refrigerated pie crust (I prefer Pillsbury. Choose the pie crust that can be rolled out. Not the frozen kind).
2 cups sharp cheddar cheese
2 cans of white albacore tuna in water, drained
2 cans of cream of celery soup (and yes, it must be cream of celery. Not cream of anything else. It will not taste good.)
1/2 stick of salted butter or 4 tablespoons
1 green bell pepper seeded and diced
1/4 cup chopped onion
1/8 tsp. ground pepper
Preheat oven to 375 degrees.
Place refrigerated pie crusts on counter at room temperature while you perform the following tasks:
Melt butter in a skillet. Place onions and green pepper in skillet on medium heat. Cook until soft, about eight minutes. Turn off heat.
In a separate bowl, mix drained tuna, cream of celery soup, and pepper. When onions and green bell pepper are soft, add them directly to this mixture. Do not drain. Add that glorious flavored butter to the tuna creation.
Mix.
Add shredded cheese.
Mix.
I forgot to add pepper to my pie! Maybe I should have read my recipe first! Be better than me. Season.
Open pie crust package. It should now be malleable. If it is not, wait five more minutes before you handle it.
Place one layer of pie crust on the bottom of the pie pan. Pierce with fork.
Pour tuna mixture into the pie pan.
Cut a pretty shape into the remaining pie crust with a small cookie cutter.
Place over tuna mixture. Crimp edges. Pierce with fork.
Isn't this lovely? You would never know it was a tuna pie.
Bake in the oven for 50-55 minutes.
Let cool for 15 minutes before serving. It's not going to be pretty when you slice it. Hey! You're eating tuna pie. This is the least of your worries.
This pie is even better reheated the next day. You have to eat it by the next day. Tuna products are bad after that.
My husband despises this pie. It's okay. My dad despises this as well. My mother still cooked it. Thank God! So, I cook it when my husband is at work. The kids and I love it.
If you love tuna, make this! Enjoy! If you hate tuna, look away! While I enjoy!
Have a great day!
I shared this on Savvy Southern Style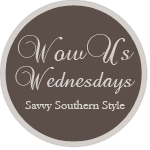 And My Romantic Home