Have you ever wanted to look prettier than you are? Your skin perfect? Your body slimmer? Without surgery? Then, I suggest you buy an antique mirror.
I first saw our antique mirror in the back of my favorite antique store. I knew I had to have it. I also knew the seller was always open to offers, as I had purchased from her before. For large pieces, I always haggle, unless it is all ready a fabulous price.
I got the mirror for 20% off. It is one of my favorite purchases. The tag read "old department store dressing room mirror." I imagined the ladies of the era standing in front of its now pickled glass.
I love the chipped, grooved frame. The aged black specks. I love that it makes me look better when I stand in front of it. Cross my heart. This mirror is magic that way.
Just ask Ollie.
Do you own an antique mirror? Does it have magic proprieties, as well? If not, what is your favorite oldest item in your home?
I shared this on Savvy Southern Style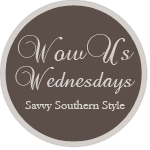 And My Romantic Home