When we purchased our house eleven years ago, we swapped out our hallway and laundry room lights for the prettiest ones we could find for under twenty dollars. And then we never thought about them again.
Until we gave our home a mini facelift. Nothing extravagant. Just a little injection of love here and a swift cut right above there. I promise, it did not feel a thing.
I once again looked up. And I did not like what I saw. I did some research and swiftly fell in love with these lights: The Sophia Flush Mount light in the beautiful star shape with the brass finish. Trouble is, they were way out of our price point. And my husband hated them. So I moved on, looking for a better option.
I immediately fell more in love with a different light. I am fickle. It was still spendy, but doable. My husband loved the light. Sold. I found my lights from School House Electric & Supply Co. in Portland, Oregon. The base is Newbury 6″ in antique brass. And the shade has the lovely name, HP-2250-11-6SH. They got real creative there. I would have named it something like Silver Rings To Eternity or Endless Pewter River. But HP-2250-11-6SH will do… I guess.
I realize they are rather large. And to be quite honest, you should have seen my face when I pulled the shade out of the box. I think I said something like "HP-2250-11-6SH!"
But I like oversize things. They go with the fantasy house I am creating. My husband promptly installed them and I am in love.
They brighten up the hallway and laundry room. I love how they match the freshly painted grey walls.
I cannot get enough of stripes. Grey stripes, in particular. They are on my pillows, my towels and now on my lights. I think I might have a problem. Is there a support group for this? Is HP-2250-11-6SH the name of the group? What household color combos are you attracted to? Are you in rehabilitation? Is there room for one more?
I shared this on Savvy Southern Style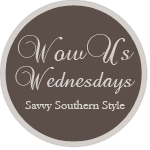 And My Romantic Home