When we built our pool two years ago, I needed to find furniture to fill the spaces. But outdoor furniture is very expensive. I looked everywhere. I tried Costco. I had purchased our other outdoor sectional through them the year before. But that had been a great price, because it was discontinued. I could not find the deal I wanted the next year.
So, I checked craigslist. And I found a sectional with a matching giant ottoman that could make up into a huge outdoor bed.
?
Yes, outdoor bed. The ottoman fits perfectly into the couch. Having no need for an outdoor bed that could fit twelve (imagine the fun stories this piece could tell), we separated the two pieces into two separate areas around the pool. They came with blue cushions. I was doing a blue color scheme, so it was perfect.
But the fabric has not held up so well. Even though we put it in storage in the winter. So, I am going to try and revive it. Thank you, Teresa, for the suggestions. This is what it looks like for now.
It is the only thing I have ever purchased on Craigslist. Go big! My sweet dad went and picked it up for me. Thanks daddy!
I am always searching Craigslist for certain items. Shhhh… I am not telling what. I'll let you know if I ever get them. I got beat out on a spectacular item by one hour, two weeks ago.
Have you purchased anything from Craigslist? What was it?
I shared this on:
Savvy Southern Style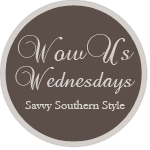 And My Romantic Home.